The Tabor side of the Bishop family...

The Tabor family: Hazel, Grandpa Tabor, Burton, Clara, Grandma Tabor and Fannie.


Vernon, Max & Fannie (Tabor) Bishop and Orin Tabor (Four Generations)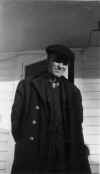 Grandpa Orin Tabor

Lauren Grubaugh

Clara (Tabor) Grubaugh
Lauren and Clara had a farm in Bannister, Michigan.

Ester, Gail and Burton Tabor
Burton and Ester's farm was in Bannister, Michigan just across the road from the Grubaugh farm.

Ken and Hazel (Tabor) Baxter
Ken was a Bell Telephone executive. They had two kids and lived in Flint, Michigan.
A Tabor Family Reunion:
Burton, Jill and Ester at home in Bannister:
Burton Tabor and sister Clara (Tabor) Grubaugh:

Clara (Tabor) Grubaugh, Vernon Bishop & Burton Tabor at the Tabor farm: