Back to School Life: The Kids at Meridian High, G-L
Diana Hulett's page:
An edited email from Diana Hulett Harrell to Max Bishop in August of 2000:
…I live in the mountains of North Carolina, Murphy to be exact. We have a home on a lake and love it. I lived in Lakeland Florida for 12 years. Left Michigan in 1973. I worked at Dow Chemical in Data Processing for two years after High School then quit to adopt a little girl. A couple of years later I worked for Bechtel Power Corp. while they built the Nuc Plant. I was in Data Proc for them as well. Got tired of the Snow so moved to Fla. and worked for a year or so before be com ing a foster parent for 5 years. Adopted a little girl I was fostering. She will be 18 yrs old this Saturday. Afton will go off to Salem College the end of the month. Brookelyn my 30 yr old is a teacher in Thomasville Ga. The girls will only be about a half hour from each other so that is nice. Salem College is in Winston-Salem, is an all women's college in Old Salem. It was established in 1700's. It is affiliated with Oxford in England. We are fortunate that she can go there. My husband is one of two abuse investigators here for the County. I stay home now and baby-sit two little girls…

Thanks again for the email.

Diana
Hope School: Beginners through 4th Grade, 1952/1953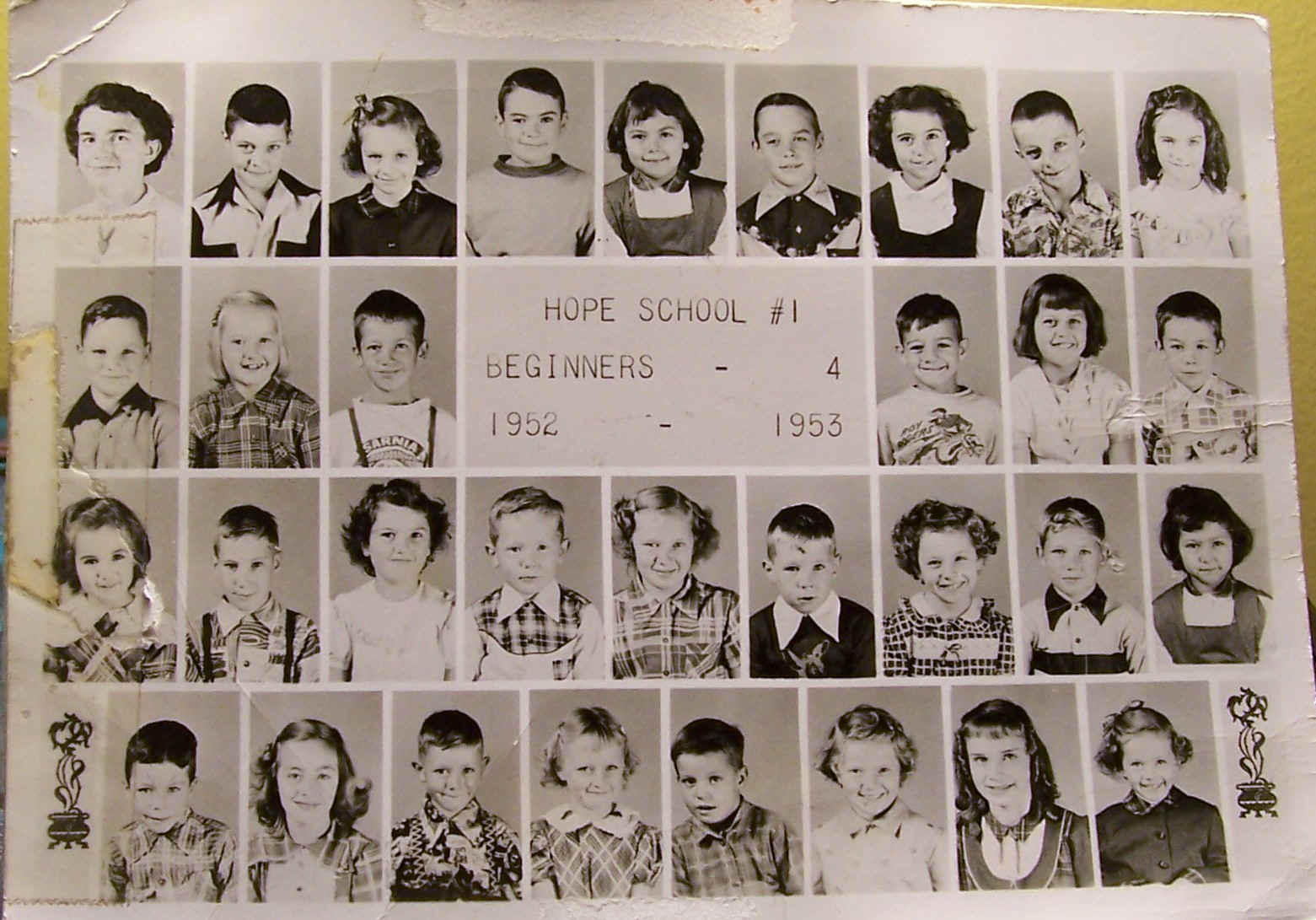 Teacher? Dennis Michael.. Connie Hulett.. ? .. Dana Wint.. ? .. Sharon Schearer.. ? ..Sue McGraw
Paul?....Georgia Martin..Bill Smith...Sheldon Schearer....Anna Draves...Bob Pyle..
Linda Kay?....John Clark...?Streeter...Paul Havens..?...Jerry Luenburger..?...?..Margie Wint
Mike McCrary...Ina Lindsey...Denny Thomas...?...Teddy Draves...?...Ruth Ann Doran...Diana Hulett
You may click on each of the following photos to enlarge it...
INDEX of Photos with Names:
Linda Reid [65]:

Jerry Leuenberger [65]:

Connie Hulett

Dana Wint [64]:
Margie Wint [66]:

Mike McCrary [64]:
Suzanne McGraw [64]:
Sheldon Shearer [66]:

Ted Draves [66]: